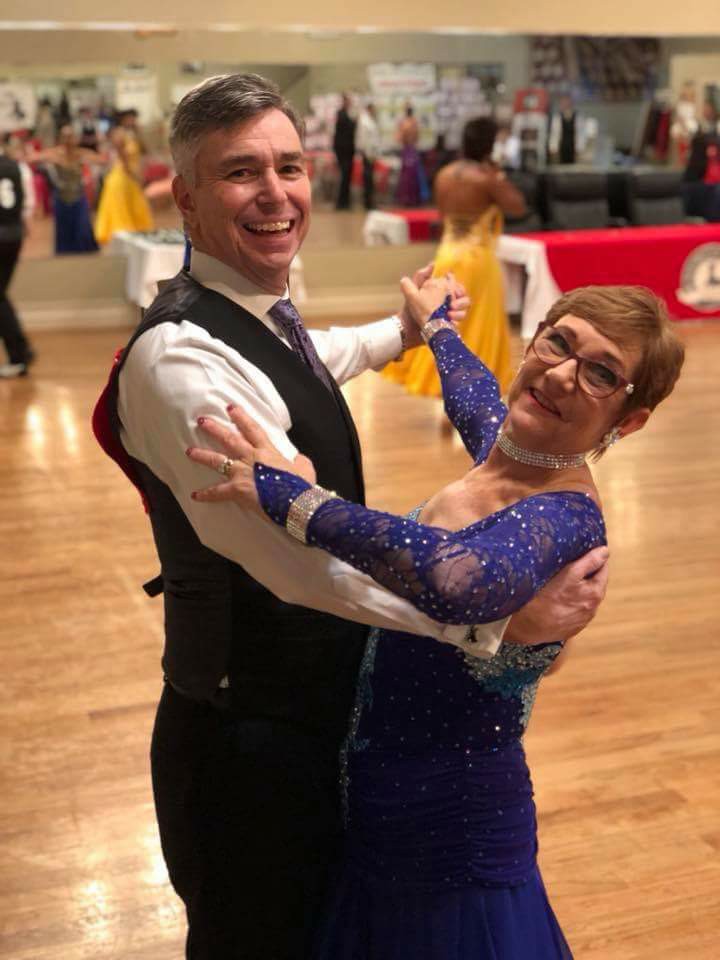 20 Mar

Who's Who at the BDC – Jay and Joyce Howard

A calculus book began a romance that has lasted 47 years including 42 years of marriage!  If you ask Jay, he will tell you that he asked Joyce out 10 times before she finally gave in and went out with him.  However, ask Joyce the same question, and she will say he only asked her once.  The other times he didn't ask her out, but asked things like "What are you doing this weekend?" or "Can I walk you to your next class?" (Little did he know that her next class was right next door to their calculus class!)

So, taking two years to start taking dance lessons is really no surprise.  Joyce and Emilie worked together at Weight Watchers, and Jay often talked to her about dance.  Emilie tried to encourage them to take lessons, but Joyce always said, "We can't dance! We have two left feet.  We can't hear the beat of the music."  Then, one day, Emilie told Jay that there were many ladies looking for dance partners and that he could take lessons without Joyce.  Joyce said, "I don't think so!"  The next day, unbeknownst to Jay, she purchased five lessons as their 35th wedding anniversary gift.  To say that Jay was surprised, is an understatement.

So, in early December 2013, they had their first lesson with Megan.  Before they completed the first five lessons, they had already purchased more and have gone from one lesson a week to multiple lessons.  While they see the value of group classes, they prefer private lessons because the reason they started dancing was to have a common hobby.  They are, however, regular students in the Technique Class since it helps them improve their dance skills.

Jay and Joyce are active at The Ballroom Dance Center.  They began competing at the Augusta Dance Challenge in August 2014.  Initially, they competed only as an amateur couple, but later decided to compete both Pro/Am, where you compete with your instructor, and Am/Am, where you compete with another amateur.  From there they have gone on to compete in Roanoke, Asheville, DC, and Atlanta.  Competing helps them establish goals and gives them the opportunity to put what they have learned through their private lessons into practice.

With a competition under their belt, they decided they would try performing.  They performed in Enchanted in 2015, and they have performed in every showcase since.  Initially, Jay danced in the showcases with Megan or Emilie and Joyce danced with Val.  In the 2019 show, Murder at the Moulin Rouge, they decided they would not only dance with the professionals, but they would also dance with each other.  This was a huge challenge for them because the thing they find the most difficult is staying on the beat of the music.  The three dances together actually told a story within the story.  One would have never guessed that Jay had showmanship qualities, but they became more obvious in Seven Deadly Pirates and Cats and Dogs, the Movie.  Joyce has been pushed far outside of her comfort zone by dancing on a table, doing a trust fall in Seven Deadly Pirates and being "shot" out of a cannon in Under the Big Top.

When Jay and Joyce are not at the studio, they enjoy time with their family. They have two children, Jimmy and Jackie.  Jimmy and his wife, Beth, live in Juliette, Georgia, while Jackie and her husband, Drew, live in Martinez.  Jackie and Drew are expecting their first child in July.  Jimmy and Beth have been on an adoption wait list for two years. So, the entire family is hoping that Jackie and Drew's baby becomes the second grandchild!

Aside from dance, Joyce also enjoys crafting and has recently taken up cookie decorating.  She wants to be able to share these things with her grandchildren.  They purchased a boat recently, as boating was something they enjoyed while they were dating.  They are looking forward to enjoying even more family time on Clarks Hill with their children and grandchildren.  Joyce teases Jay that the boat is his girlfriend.  Since purchasing it in December, he does not care how cold it is; he'll go and spend a little time cruising around the lake!

Jay and Joyce's biggest regret is that they did not start taking dance lessons earlier.  They have said that they wished their parents had "made" them take dance lessons when they were younger because it seems that the younger you are, the easier it is to learn.  They encourage anyone who has thought about taking up dance, to give it a try, regardless of their age.  Dancing is a great way to have fun, meet wonderful people, and share a common hobby with your spouse or significant other.  The teachers and other students are always encouraging no matter your level.  Both Joyce and Jay agree that when they dance, they want to do their best because they do not want to let Emilie, Val, or each other down.  Val and Emilie are very patient and work tirelessly to help you improve.  Whether you take group classes, private lessons, or a combination of the two, you will find joy and develop a love for dance!  Joyce and Jay sure have!