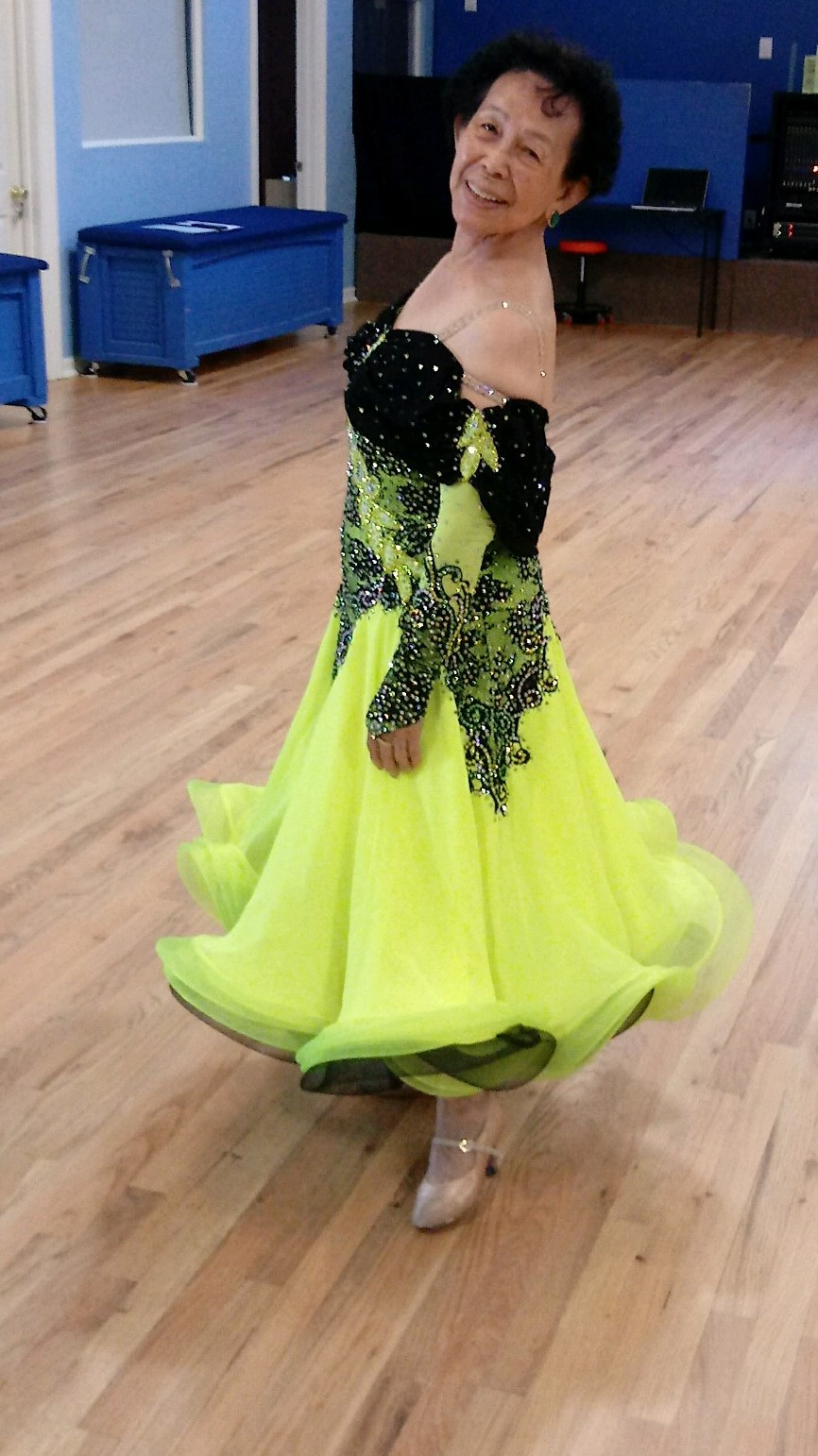 16 Jan

Who's Who at The BDC – Nobue Young

We have an amazing dance family at The Ballroom Dance Center. Every student is special in their own unique way. The most senior member of our dance family is Nobue Young, who is 89 years old. She has been dancing with us for 24 years.

Originally from Japan, Nobue came to the United States as an Army wife. She met her husband Ron while he was stationed in Hiroshima. As the story goes, she was working in a photography studio/gift shop when her soon-to-be husband Ron stopped in to ask directions. He had gotten lost on his way to the shipyard.

As luck would have it, they hit it off and dated for about six months before beginning paperwork so they could get married. It took about a year for the paperwork to be completed for the United States and Japan. They were married in 1955, and Nobue came to the United States with Ron in 1957. Her first home here was in Florida followed by Louisiana, Texas, Kentucky, and finally, Georgia, where they bought the house where Nobue still lives.

When asked about her love of dancing, she refers to herself as a "dancing fool." From group and private lessons to showcases and exhibitions to competitions, Nobue has done it all. Some of her fondest memories are of the competitions she has danced at – the Ohio Star Ball, Hotlanta, First Coast Classic, Roanoke Open, DC Dance Challenge, Ashville Star Ball, and the Atlanta Open to name a few. One competition stands out above all the rest. At the 2005 Ohio Star Ball, Nobue placed first in her age division. She had always placed well, but this was the one where she beat out all the other competitors.

Nobue always stands out in the showcase productions of the studio. Since she is a talented seamstress, she makes most of her own costumes for the shows.

Over the years, Nobue, along with her husband Ron, enjoyed going to the VA Hospital, nursing homes, and elementary schools to share their love of dance. Not only did they do the Waltz, Rumba, Tango, Cha-Cha, and other ballroom and rhythm dances, but they would perform Japanese dance. Dressed in traditional Japanese kimonos they would dance and explain the Japanese culture to those they went to entertain through their love of dancing.

Even at 89, Nobue continues to enjoy the benefits of dancing. It is good exercise and helps her improve her balance, so you will find her at the studio no less than three times a week for her lessons with Val. As proof of how seriously she takes her dancing, she believes in practice! She is at the studio at least 30 minutes prior to her lesson to warm up and practice. This is a lesson all of us could learn as we aspire to be better dancers.

When we asked Nobue what she loves about dancing at The Ballroom Dance Center, her answer was simple – good teachers, nice place. She also enjoys private lessons where there is more attention to detail, and you learn faster. To Nobue it comes down to having fun and enjoying the challenge of learning.

When not dancing, Nobue can be found in her kitchen cooking both American and Japanese dishes. One of Nobue and Ron's favorite things to do was to shop at the oriental food markets whenever they were in Atlanta at one of the ballroom dance competitions. Nobue also loves gardening and is particularly fond of roses and orchids.