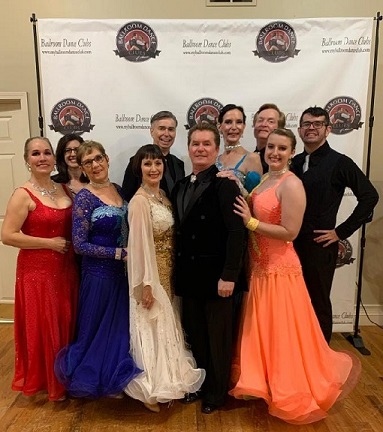 25 Feb

2020 Ballroom Dance Clubs of Metro Atlanta Match Comp

What a great weekend at the Ballroom Dance Clubs of Metro Atlanta Match Competition at their studio in Duluth, Georgia! The teachers attending from The Ballroom Dance Center included Emilie, Val, and Glenn. Student competitors were Melissa Bartlett, Kaylee Gresham, Jay and Joyce Howard, Kimberly Oberkirsch, and Joel Pridgen. Glenn competed with Emilie in the Rising Star professional division, while the students competed in the bronze and silver divisions. We were happy to have Kaylee's mother, Jenifer, join us as a spectator.   Also competing at the match comp were students from The Ballroom Institute located in Marietta, Georgia.

We couldn't be happier with the performance of our students at the comp. Seeing them compete and do so well was confirmation to them that practice and dedication yields big results. Their teachers knew what they were capable of all along. With that said, Melissa, Kaylee, Glenn, Jay, Joyce, and Kimberly received medals in the Multi-Dance Championships in both Smooth and Rhythm dances. The Howards also received the Top Visiting Students award. The Ballroom Dance Center received an award for Top Visiting Studio. Way to go Team BDC!