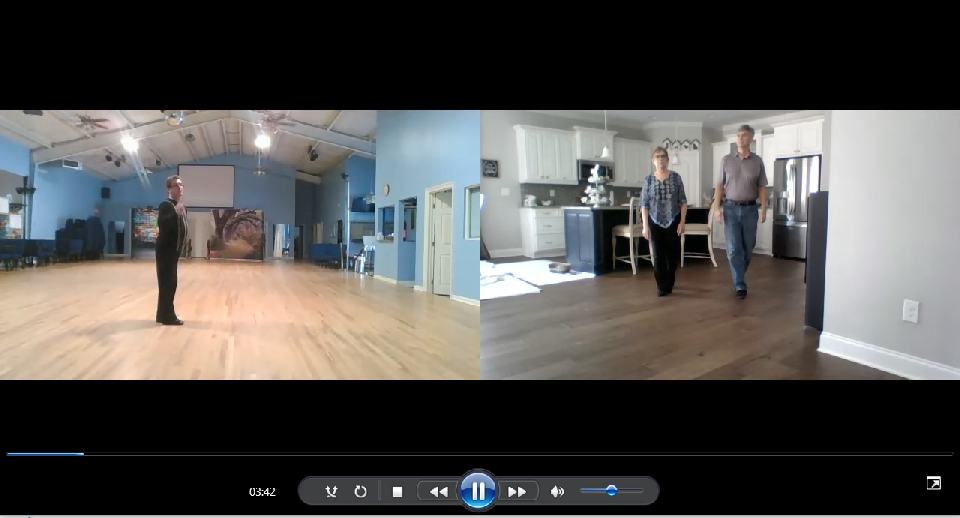 28 Mar

Come Zoom with Us – Take Dance Lessons While Practicing Social Distancing!

We are living during an unprecedented time in human history. Although many have experienced pandemic isolation in the past, this is the first time technology has allowed us to practice social distancing while staying socially connected. School children are learning and staying connected through distance learning, families are connecting through social media, and here at the Ballroom Dance Center, students can continue their private lessons through Zoom, a product similar, yet more powerful, than Skype and Facetime. You don't need a lot of space and can focus on specific goals during your Zoom lessons. All you need is a computer, tablet, or smartphone, and an invitation from the teacher to join the lesson.

Jay and I have had the opportunity to continue working with Val in the comfort and safety of our own home. I have had three lessons, two that included Jay and one where Val and I worked on our "Cats and Dogs" performance. Jay was working (from home), so he didn't participate in that one.
Practice social distancing and technique
During our first lesson, Jay and I worked on elements that we struggled with during our last lesson at the studio – the Spin turn in Waltz and the Impetus in Foxtrot.  Val was able to see us, point out what we were doing wrong, encourage us, and help us improve our technique. Zoom, unlike Skype and Facetime, allowed us to record our lesson so that we can refer to it as needed.
Although I prefer in-person lessons, having this opportunity allows us to stay on top of our dance and not lose any skills or muscle memory that we've already developed.
Practice social distancing and choreography
My second lesson with Val focused on our "Cats and Dogs" performance to "Stray Cat Strut." We specifically worked on a part of our choreography that has us being side-to-side. I struggle with being able to practice by myself (I always say that I'm "turn challenged), but dancing by myself is an important part of the routine.  Using Zoom forces me to dance alone!
I was also able to work on timing and really focus on the choreography. Unfortunately, I forgot to remind Val to give me permission to record. On the bright side, I did write down some important notes.
Practice social distancing and learn new skills
In our third lesson, Val wanted to work on the Cha Cha portion of Jay's choreography to "Me Too," which he'll perform with Emilie in the showcase. Val didn't want me to sit idly by, so we worked on things that would benefit me as well.
First, we worked on Lock Steps. Because Val could have us dance it from different angles, he was able to pick up on things like taking heel leads, if we were placing our feet properly, and whether we were "dancing on the same page."
We also worked on the Cha Cha Grapevine. This was new for me, but I'm happy to say it didn't take too long for me to learn it. And now we have something new to try when social dancing. In case you were wondering, I did remember to get permission to record this time.
Keep dancing with the Ballroom Dance Center
I won't lie  – sometimes it gets frustrating having a virtual lesson because you're not physically connected to your teacher, and there can be glitches. But, sometimes, having an in-person lesson can be frustrating, too! I believe that having a virtual lesson is better than no lesson at all. If I had to wait two or more weeks until my next lesson, I'm sure I'd lose some knowledge that I have already gained.
If you've been reluctant to take a lesson through Zoom, I suggest you give it a try. You don't have to be a technical genius or have a lot of space. There are things you can work on with your teacher and lessons to learn. And who knows, you just might like it! Contact The Ballroom Dance Center today to schedule a virtual dance lesson.