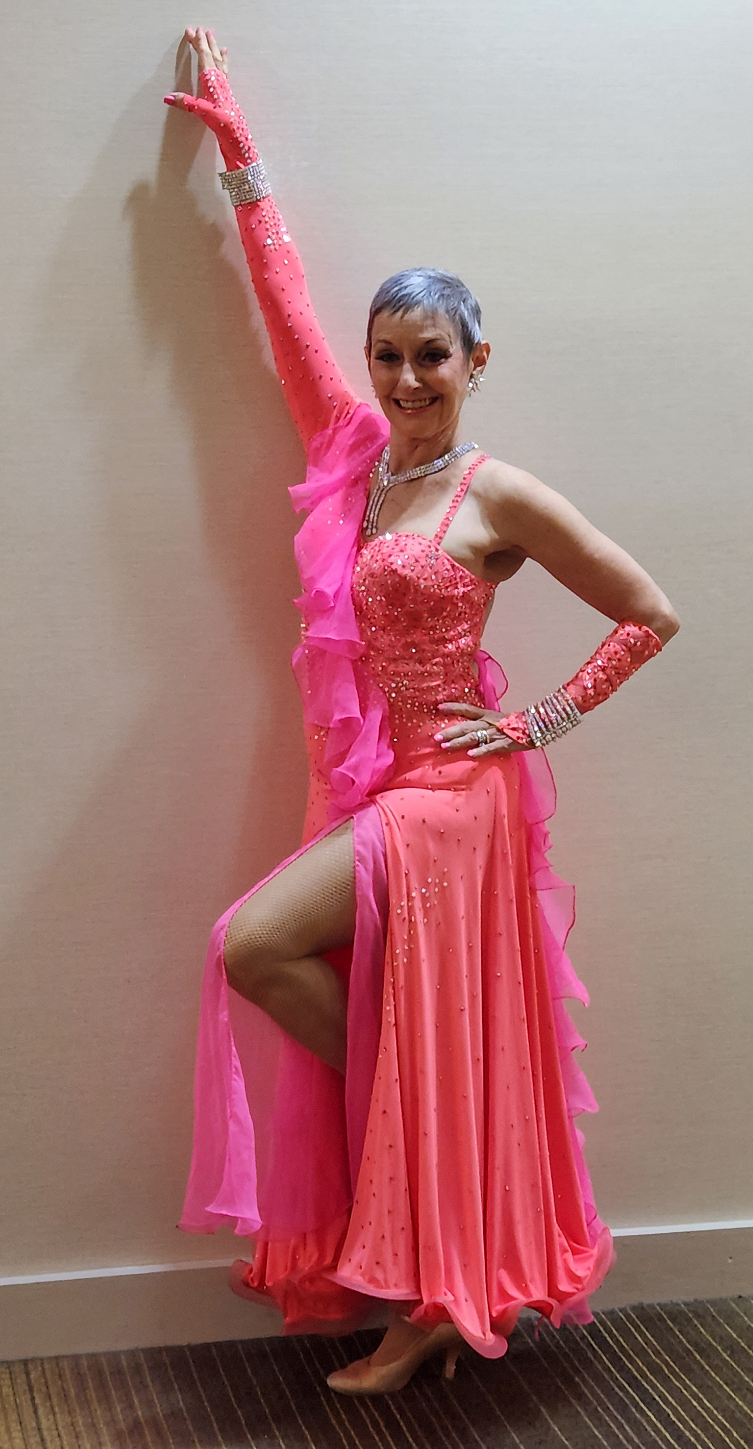 18 Oct

Our Story – Part I

As The Ballroom Dance Center prepares to celebrate its 30th anniversary and the 21st anniversary of the professional partnership of Emilie Tobias and Valery Ganiev, this is the perfect time to share our story with our dance family and friends.

You may know that Emilie's father was a Naval officer. She was born in New Port, Rhode Island, where he was stationed. From there, her family moved to Boston. His next assignment was at the Defense Language Institute in Monterey, California. As the son of a Baptist missionary, he was born in China and lived there until he was 12. With his background in the Chinese language, this was a perfect assignment for him.

At the age of five, while living in Monterey, Emilie started dancing and taking horseback riding until one day she professed to her mother, "I am a dancer!" She had fallen in love with ballet.

After language school her father was stationed in Taipei, Taiwan, for three years where her love of dance continued to grow. The next stop on her journey was in Charleston, South Carolina. She continued to study ballet and had the honor of being chosen to play Clara in a professional production of "The Nutcracker" by the Charleston Civic Ballet Company. She also performed with the Charleston Dock Street Theatre, which is one of the oldest theatres in the country with an excellent children's program.

One of the highlights of this experience was being coached by Cathy Buchanan, a professional ballet dancer with the Charleston Civic Ballet Company. She told Emilie to be so expressive in her performance that even the person in the back row would be touched by what was happening on the stage.

Life Lesson One – The way you make people feel is far more important
than how perfectly you perform.

Her father's next assignment was at the Guantanamo Bay Naval Base in Cuba. Every four to six weeks, a Navy plane would take those on the base to San Juan, Puerto Rico, for medical appointments and to purchase items that were not available on base. It was at this time she was introduced to Latin music and fell in love with Salsa and Flamenco.

From Cuba, the next stop was Northern Virginia for her dad's last tour of duty in the Washington, D. C. area, where she continued to be involved in theatre and dance. Retirement brought the family to Augusta, Georgia, in the middle of high school. She attended Augusta Prep and was student government president. While here, she took classes with the Augusta Ballet School and was part of some local theatrical productions, that included "Come Blow Your Horn."

She went to college at Davidson in North Carolina and was very active in the theatre department. As a history major, she pursued her life-long love of stories about people. Upon completing college, she went to London for six months and attended mime school. Through this experience she continued to learn how to use expressiveness to tell stories with the entire body.

Emilie began her professional career at Randolph-Macon Woman's College in Lynchburg, Virginia, where she worked in student services under the Dean of Students. They had a fantastic dance department, and she was able to dance every day with others in the dance department and perform in their shows.

While working at Randolph-Macon, Emilie met Helen McGehee who had retired after dancing for 29 years with the Martha Graham Company in New York City. Emilie was astounded by how she looked and how she taught and danced. If not for some of the signs that go along with aging, from a distance, you would have thought she was 25. She was living proof that your ability to express your joy and passion for something, as well as your ability to move to the music does not diminish with age. Helen proved that if you use it, you won't lose it. Ms. McGehee continued to do a daily, rigorous dance work out and lived to be 98!

Life Lesson Two – You can be amazing at any age.

While Emilie was in Virginia, Dance Magazine did a feature article on Lotte Goslar who was from Germany. She had a professional dance company based in New York City. Lotte combined elements of dance, clowning and mime in her performances with dancers from around the world who made up her dance company.

After reading the article, Emilie called Lotte and asked for the honor of meeting with her. Lotte was 75 years old at the time and invited Emilie to visit her at her home in Western Massachusetts. Emilie, who was 25 years old, shared with Lotte that she was inspired by what Lotte did and that was what she herself wanted to do. Her advice to Emilie was to get some life experiences first and develop as a dancer and actress. "As you live life, you'll have more stories to tell," revealed Lotte.

Emilie returned to the Boston area and lived there for 10 years. While there, she performed for two years with a children's theatre company and toured with the company for their productions of "Pinocchio" and "Rumpelstiltskin." She even had a nose that lit up and grew! She also studied various dance styles including mime and modern dance while there.

She had three professional positions while she was in Boston. The first one involved working with international students at an English as A Second Language school. One key area of responsibility was helping the students adapt to life in the United States.

Following this, Emilie went to work for the Arthur D. Little Company. During her time there, she was the manager of a 13-month Master's in Management program for students from all over the world. Responsible for student services such as housing and activities, she was in contact with people from all over the world – Africa, South America, India, Pakistan, Southeast Asia, Japan, and the Arab world – from both the public and private sectors. One of the highlights of this position was organizing a two-week field trip for 70 people to visit businesses throughout the United States. Although the company's travel agency helped with travel arrangements, this was a tremendous undertaking. The Master's Class studied finance, manufacturing and more, visiting companies and entities ranging from banks to the New York Stock Exchange to agri-business operations in California.

She also oversaw student services for short international summer management programs to train mid- and senior-level executives in fields such as Petroleum Management as well as Project Management.

From there Emilie's career took her to the Northeastern University Business School where she was the manager of the Executive MBA program. She oversaw admissions and student services in this intensive, flagship 18-month business program consisting of top-level executives from American companies.

While in Boston, she attended an intensive summer dance program at Harvard University. She later took a Swing class at Harvard that was being offered by their continuing education department. That is where she fell in love with ballroom dancing and made connections leading to her amateur Latin dance partnership. She and her amateur partner went on to compete and were the New England Amateur Latin Dance Champions. She also loved going to dance clubs with live Salsa and Merengue music, harkening her back to her early exposure to Latin music in Puerto Rico and Cuba. It was through ballroom dancing that the various art forms she had studied throughout her life came together in one beautiful package.

Life Lesson Three – Ballroom dance is the perfect vehicle to tell people
stories! Each dance in both smooth and rhythm has a unique character,
making ballroom ideal for social fun as well as for great theatrical productions; a life-long love of Emilie's.

It was while living in Boston that she met her future husband, Joe Tobias. She had traveled from Boston to Georgia one Christmas to visit her family, and Joe was at a Christmas party she attended. The two flew back and forth between Augusta and Boston for five years. On Joe's fiftieth flight, it was a one-way ticket. He helped Emilie pack everything up, and she moved to Augusta to join him and his son, Toby, who was in high school at the time.

Emilie loved the big city life of Boston and everything that went along with it. It was a beautiful city on the New England coast and an exciting place to live that was rich in culture. She found it so hard to leave, but there was a final selling point Joe had up his sleeve. He promised her if she moved to Augusta, she could open a dance studio, and that is just what she did! Stay tuned for the rest of the story.