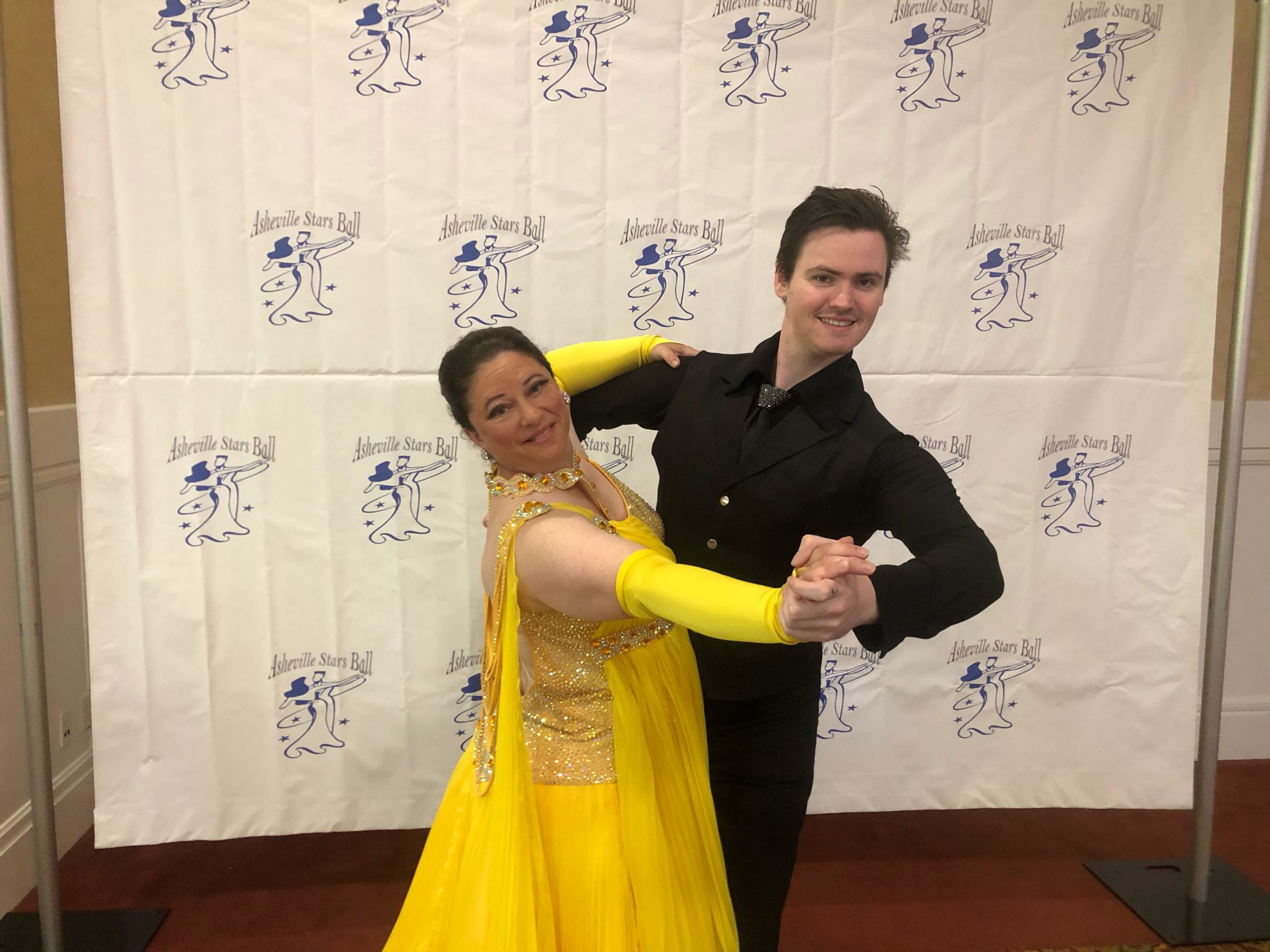 27 Feb

Who's Who at the BDC – Katrea Howard

Ballroom dancing isn't just for couples, it's for individuals as well. Although it may not be the first thing you think of when you're looking for something to do in your free time, it's something you should definitely consider doing for yourself!

Meet Katrea Howard. She is a small animal veterinarian who was initially pursuing an electrical engineering degree. She has an amazing mom who supports her ballroom dancing in every way possible, but due to health issues, she is unable to come to watch Katrea dance as much as she would like to. Katrea has a brother, and he and his family live in Asheville, North Carolina. Prior to that, they lived in California where he was a professional skateboarder and was in X Games as a vert ramp (half pipe) skater. He was also one of the performers in the closing ceremony of the Atlanta Olympics. She also has some four-legged family members; dachshunds, Parker and Rizzoli, and horses, Foxworthy and Danny.

As a child, Katrea took ballet and tap, but in high school she found horses! She showed running horses as a Western event. She had a special bond with Chase, a horse she raised. Through the years, horses have taught her so many things. Chase was her angel sent by God to be there for her for a certain length of time. He got her through so much, including college and veterinarian school. That was 16 years ago. When she lost him in a riding accident, she needed a new outlet since their partnership was one that she could never replace.

When one door closed, another door opened, which led her to ballroom dancing. The people and the experiences ballroom dancing provide are something she didn't get in the horse world where there were limited social encounters.

Katrea has found so many other benefits in dancing. It is a way to build confidence, and she loves the exercise and movement dancing provides. It's also a great way to relax. You would think after working all day, dancing would be the last thing you would want to do, but that's just not the case. When you're trying to survive in this crazy, mixed-up world, it's like getting a second wind when you go into the studio for a lesson. Dance is a way to do something totally different and escape, if only for a little while, and allow any negative emotions to fade away.

Another plus is meeting such friendly people who share a common interest. The Ballroom Dance Center provides a great environment, and the staff is wonderful. Sometimes what your instructor asks you to domay seem really hard, especiallyearly on, but Katrea's advice is to stick with it and push yourself through it. She has found the more you learn, the more you want to learn. She would also like to encourage anyone wanting to learn to dance to start younger even though you're never too old to get started. She feels the younger you are when you start, the more you can learn and probably at a faster pace. Also, your body is more capable, and you don't have as many inhibitions when you're younger.

She enjoys the challenges of dancing and has learned not to compare herself with other dancers. Her goal is just to be better. When she is dancing in a competition, she dances against herself and not the other competitors. She has found the key in learning to dance is just staying with it. Also, you're probably better than you think you are, but it takes practice.

She doesn't get to practice as much as she should or as much as she would like to with her busy schedule. Developing muscle memory is an important part of dancing. She finds going over things in her mind is also a big part of her learning process.

Through the original shows at The Ballroom Dance Center, Katrea has discovered how much she loves performing. She has never been a public speaker, but when she is dancing, it's like the crowds aren't even there.

When she first started dancing it was just to have fun, and she loved the social dancing. She started out taking group lessons because it was a great way to experience the different dances without spending a lot of money. As she became more accomplished, it became a way to meet people and help other people learn to dance. However, as she has stated before, the more she learned, the more she wanted to learn. She reached a level where she needed the individual attention that private lessons would provide.

Once again, she found she needed more of a challenge. That pushed her to showcase performances and then to competitions. It's so important to look good and have good technique when you're competing because that's what the judges are looking for. Good technique also helps you to look like the dancers you see on TV and isn't that what we all want?

Katrea has always been drawn to Argentine Tango and West Coast Swing, but as seasons change, now it's hard for her to really pick one dance. She loves some of the other dances just as much!