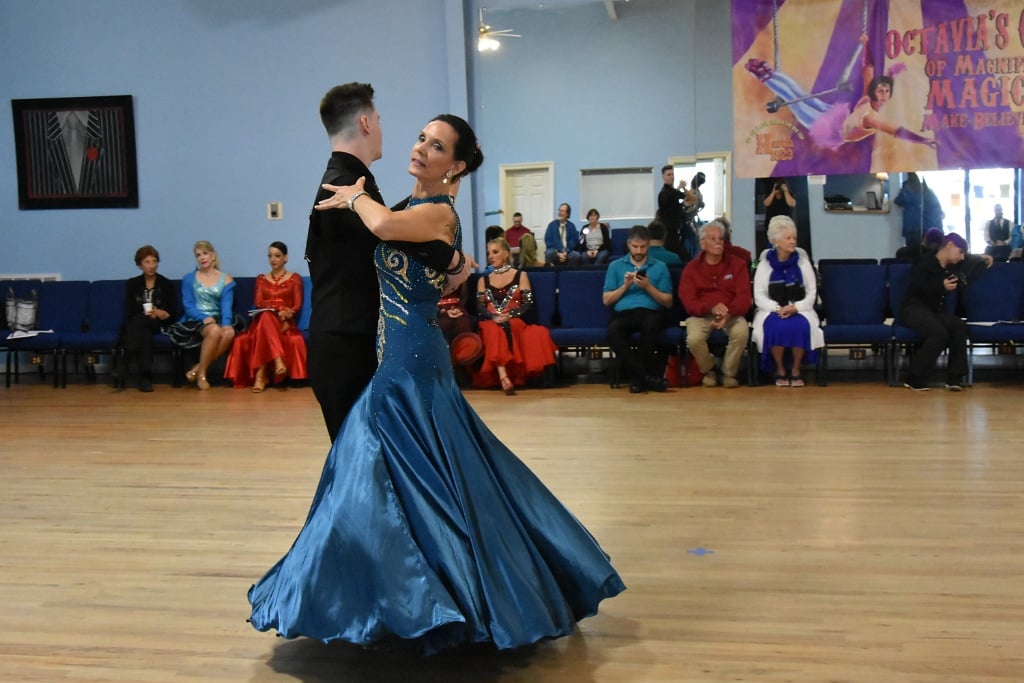 25 Apr

Who's Who at The BDC – Kimberly Oberkirsch

Kimberly had always dreamed of dancing, but when you have five children and a career, sometimes those dreams must be put on hold.  It was not until her two youngest children, who are twins, graduated from high school and encouraged her to find a hobby that she started dancing.  The pieces just seemed to fall into place.  She saw an ad in the newspaper for The Ballroom Dance Center and signed up for Hustle and Rumba.  Then she started taking all the classes that she could possibly fit into her schedule along with private lessons.  She was hooked!

To put how she feels about dancing at The Ballroom Dance Center into her words, "I have found my tribe."  She does not have family living in the area, so the other students at the studio have become her family.  She has also found the instructors to be so friendly and knowledgeable.  Emilie and Val make learning fun and challenging at the same time.  She also appreciates the fact that good dance technique is taught at the studio.  Technique helps you move beyond the steps and learn what makes ballroom dancing look and feel good.  Kimberly has found that at other studios technique may not be considered that important; however, at The Ballroom Dance Center, she gets the whole package.

She is proud of who she has become because of dancing.  She says who she was when she came to the studio is not who she is now.  She attributes 90 percent of that change to becoming a dancer.  "I can say I am not nearly as critical of myself," stated Kimberly.  "I have learned to give myself grace and have fun.  The Ballroom Dance Center is a school for learning to dance, or I wouldn't be here."

In her dance journey, and dancing is a journey, she has become more in tune with her artistic side.  She also listens to music differently.  "Is that a good song to dance Rumba to?"  "Maybe I could use that Waltz for my next showcase number or for a spotlight performance."  She also likes to take the music and imagine the costumes, hair, and makeup that will bring it all together.  All these little details, which she loves, helps create the character she wants to portray when she dances.

She will be dancing "I Wanna Be Evil," a jazzy Foxtrot in the Villains Show in June.  There is a lot of open work in the routine, which can be challenging, but she is up for the task.  She will also be performing in the Ladies Formation.  She still gets stage fright, but when she sees the joy on people's faces when she is performing, that helps her keep her nerves under control.  Kimberly said she was very humbled at the 2020 Augusta Dance Challenge when she and her instructor Val Ganiev were the only dancers on the dance floor, and she received a standing ovation for their competitive Mambo.  "That is like the icing on the cake," beamed Kimberly.

When she first started dancing, she was driven by her goals.  Her first goal was to do a competition within a year of starting to dance, and she did so in 11 months.  Her other goal was to be in every show and do as many spotlight performances as possible.

One of Kimberly's biggest frustrations in being a dancer is her perfectionist side.  She has found that sometimes you need to let it go and focus on something else.  The same is true when she hits a plateau.  At times you need to go back to the basics and what goes into the basic steps.  When that is more solid, it is easier to move to the next step or phase.

She advises that whether you are a new dancer or a more advanced dancer, do not compare yourself to other dancers.  Respect the process.  If you admire someone else, remember they started where you are.  You need to gradually build on what you learn in each phase of dancing to advance to the next phase.  You cannot expect to be a professional dancer in a few lessons.

Group lessons are a great way to learn and have fun as you meet new people and encourage one another.  However, a private lesson is a lesson tailored just for you.  It is a lesson taught at your level where you get to work specifically on what you need to work on.  "Private lessons are a great investment no matter what your dance goals may be," stated Kimberly, "but you need to practice.  I try to practice before my lesson.  This helps me feel better prepared for each lesson.  I try to practice at other times, too."

Dance parties are a great way for her to practice as well.  Kimberly and Katrea Howard won the East Coast Swing Contest at our Snow Ball in April Friday night, so it looks like both of them have been practicing.  Kimberly also enjoys seeing friends and dancing with people she does not know so she can welcome them into The Ballroom Dance Center dance family.  She makes it a point to dance with others, especially if she sees someone just watching, even if it is just the basic steps.  "Everyone has got to dance!"

Her passion is dancing, but second to that would be plants and gardening followed by travel.  Kimberly was born in France and spent her childhood in Germany where she learned German, which she still speaks.  She has also studied Russian, Farsi, and Dari.