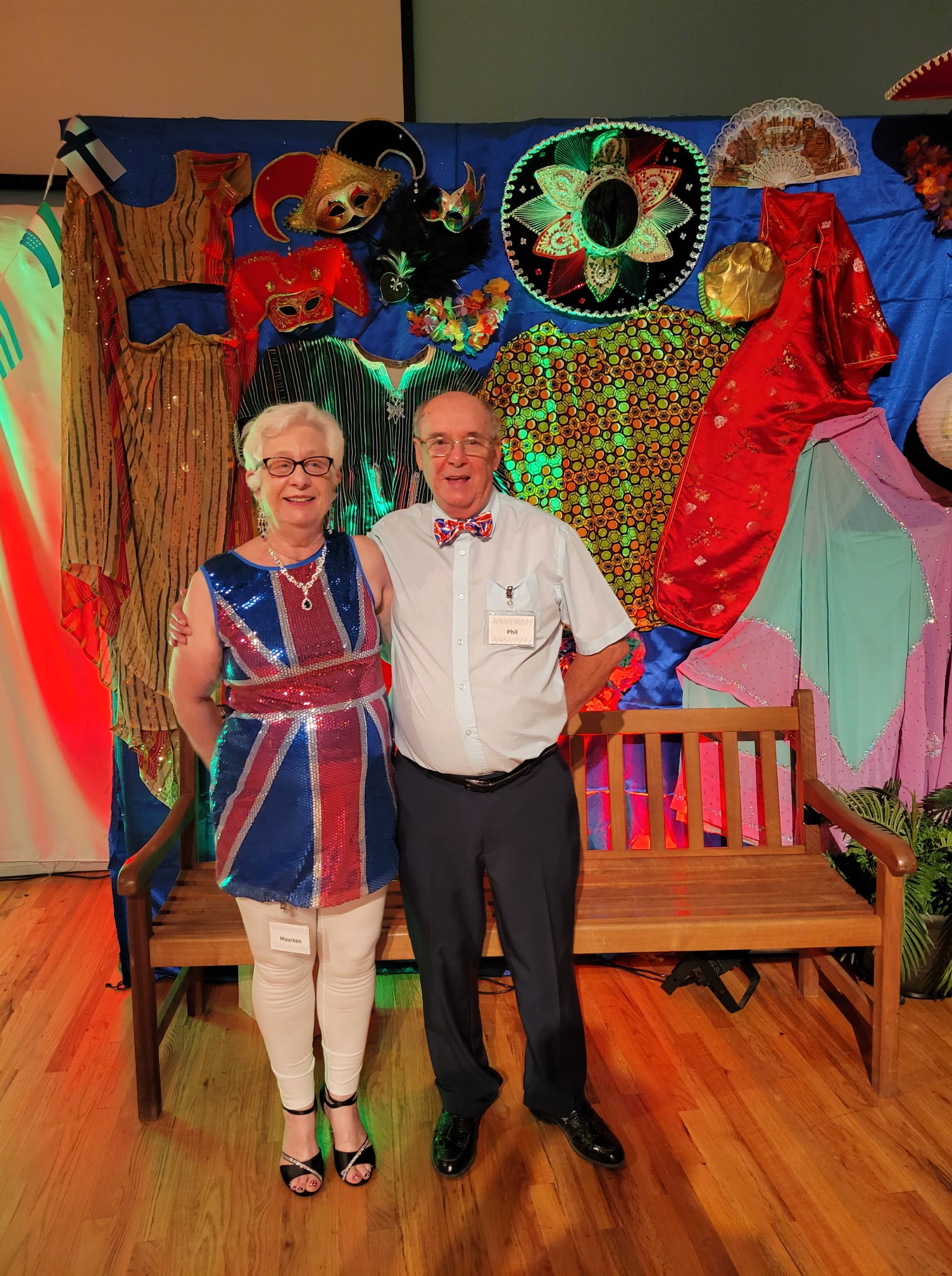 12 Jun

Who's Who at the BDC … Phil and Maureen Chandler

If you have never had the pleasure of sitting down and talking with Phil and Maureen Chandler, you do not know what you are missing. They first met in 1962 at a youth club in England when they were 16 years old. After 59 years of marriage, whether it is while they are shopping or dancing, they still love holding hands. They are best friends who were blessed to have wonderful role models in their lives. They have two children; their son lives in England, and their daughter lives in Canada. She has an 18-year-old son who just graduated from high school.

While in England Maureen worked in education for 25 years. After moving to Augusta, she was a preschool teacher for nine years. Phil says he has been a mad scientist for 51 years. He is actually a retired immunologist. A job transfer brought Phil and Maureen to Augusta. However, following his early job retirement in England, the move was a two-year process due to Maureen being diagnosed with breast cancer.

Besides loving to dance, both are avid bowlers. They have been bowling on the Lionhearts team, which was originally composed of members just from England. They formed the team when they came to Augusta 21 years ago. Maureen's bowling average is 152, and Phil's average is 165. Phil is also a Manchester United football fan, and he is quick to tell you his mood depends on how well they do when they play a game. He is also an ice hockey fan and misses the ice hockey league that used to be in Augusta.

A trip to Canada to visit their daughter, who was brushing up on her ballroom dancing skills, inspired them to take up dancing. They had passed the studio sign many times, but after that trip to Canada, they decided it was time to come into the studio and give it a try. They began with the free orientation and loved it. Phil says he foolishly talked to Jillian and knew he was going to love the studio because she was just as crazy as him. They have been at the studio for almost six years.

Phil and Maureen feel like they have found another family at The Ballroom Dance Center. They have met such fabulous people, and they love it here. They have acquired these pseudo-relatives. "You walk in, and you know you are going to have a good time. You feel at home as soon as you walk in the door," stated Maureen. They appreciate the COVID restrictions that were put in place by the studio as well. As they put it, "You protect your family."

When asked if they had any advice for someone just beginning to dance, Phil gave the following analogy. "It's like driving a car; everyone has to start somewhere." No matter where you are in learning to dance, there are going to be rough patches. However, go back the following week, and it will be much better. Practice does help. Practice on the deck, practice in the garage or practice on the driveway. It does not matter. Just practice, even if you get it wrong. It can be fixed on your next lesson. Also keep a positive attitude. It is good to laugh at yourself and each other. They only wish they had started dancing earlier in life. "Dancing is ageless," added Maureen. "There is no age limit to start or finish."

They enjoy dressing up for the balls and dance parties the studio has. During their time at the studio, they have done several exhibition numbers at the Friday Night dances. According to Phil, if you do not try something, you will never know whether you can do it or not, like dancing in front of 60 or 70 people. To which Maureen added, "If you had suggested we would be doing an exhibition, I would have said 'Rubbish!'"

They started in groups where everyone is in the same boat and at the same level. "You don't have to worry about anyone looking at you because everyone is busy trying to keep up with what they are doing," stated Phil. Groups were a lot of fun for them, but they take private lessons now. They love the one-on-one time with their instructor, who just happens to be Val. "He is such a good teacher," added Maureen.

When they travel back to England, they enjoy going to a senior resort which always has ballroom dancing. They had always sat on the sidelines because they could not dance. However, to be able to be a part of the ballroom dancing the last time they were back in England brought them such joy and a sense of accomplishment.

Speaking of accomplishments, Phil has run in 16 marathons as well as a half marathon along the Kolekole Pass in Oahu, Hawaii. Maureen joined in by walking the half marathon. "As you run the marathon, there is nothing like hearing people 20 to 30 people cheering you on throughout the 26-mile course," stated Phil. "It is so important to cheer people on because it helps, not just when running a marathon, but when dancing, too."

"The staff is great at The Ballroom Dance Center. They are so friendly and always want to help. Their sincerity and love of what they do rolls over to everyone else. There is no way as a student that we should not love what we do, too. It's not like you come down just to dance; it is the whole package. You know you are in a nice, friendly, safe place," concluded Phil and Maureen.