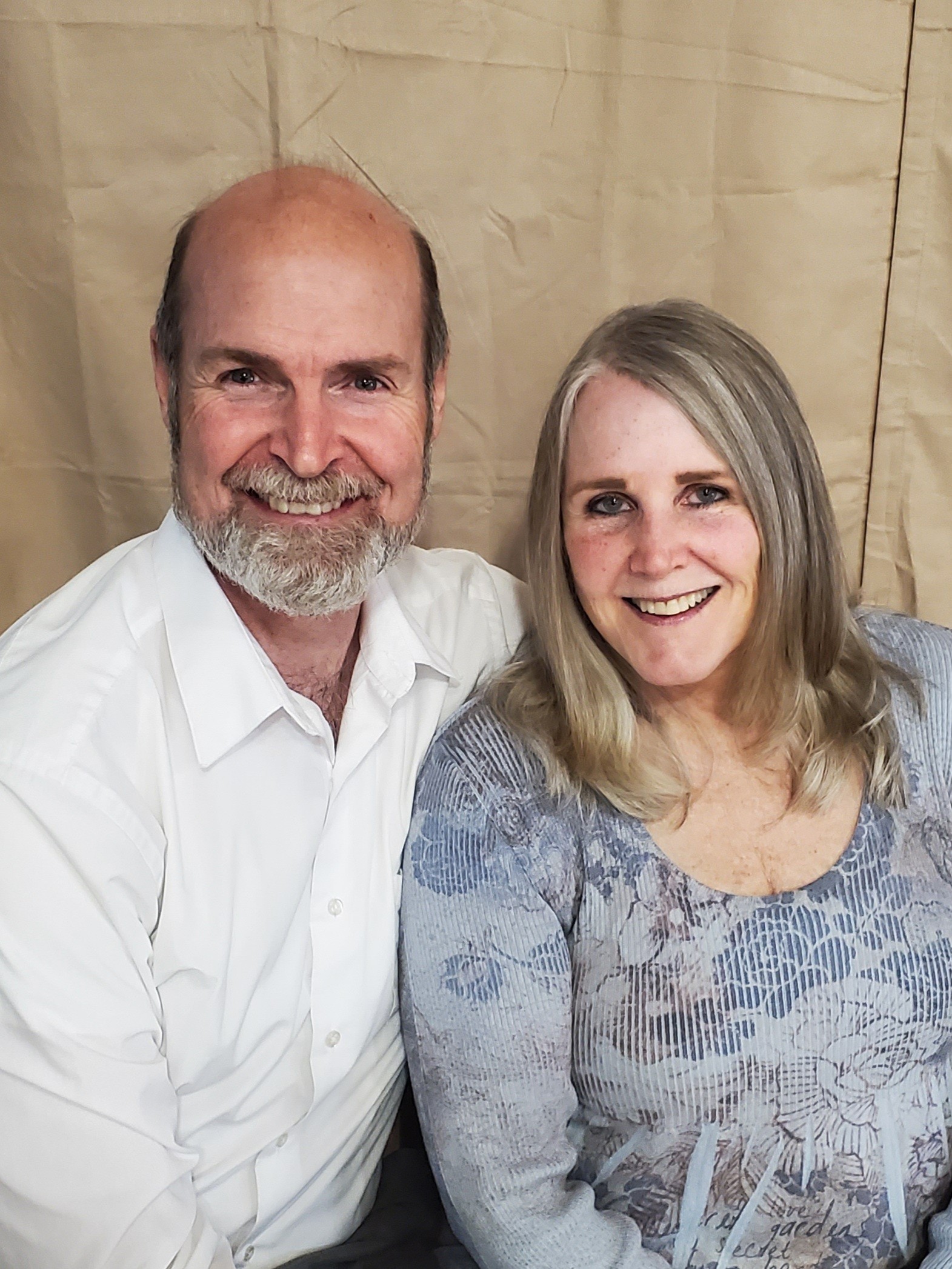 10 Apr

Who's Who at the BDC – Susan and Bob Dinsmore

Bob and Susan are from California, and they met each other serving in a worship group at their church.  They say they were friends before they fell in love because neither of them thought the other one would be interested.  Bob finally made the first move, and on New Year's Eve, Bob gathered the courage to ask Susan if she would consider going out with him.  Two and a half months later, he asked her to marry him, and five months later they were married.

Susan proved to be the anchor for their family as Bob served 20 years in the military; first through medical school, general and plastic surgery residency, and three combat tours.  After leaving the service, Bob worked for a time at MCG and the VA.  During that time, Bob and Susan moved to the country where they began their other great passion, their farm, where they raise Katahdin sheep and Muscovy ducks.  Bob grew up on a farm, but Susan is a city girl.  She grew up in Los Angeles.

Bob and Susan moved to Georgia in 1993, and every time they passed by the studio sign, they would say, "We should do that!"  Finally, 25 years later, Bob's work schedule allowed them some free time.  With a little bit of nerves, they signed up for private lessons.  Soon they were taking two lessons a week and have never looked back.

Dancing gives them an activity that they can pursue together.  It also keeps them fit, challenges them and draws them closer together.  Bob's favorite dances are Rumba and Cha-Cha, while Susan's favorite dances are East Coast Swing and Rumba.  However, they both enjoy Tango, Foxtrot and Waltz.

To people who want to start dancing or to those who are just beginning to dance, their advice is to "Just do it!"  "Don't put it off!"  "It's okay to make mistakes; we've all made them (and still do)."  Just enjoy yourself and have fun!  Also, at the end of the lesson, they suggest you take a few minutes to tape what you have learned so that you can review it later.  When asked what they would have said to themselves before they started dancing, their answer was "Be patient."  "Perfection comes with time (Susan) or not at all (Bob)."

As for practice, they say you really need to dance every other day at a minimum to keep progressing.  Otherwise, you forget what you learned in the last lesson.  They have also learned that when you reach a plateau, you may want to change your approach.  If you focus on one dance for a time, you will progress in that dance.  If you hit a roadblock, change to a different dance for a time.  You will be surprised at how much learning one dance will help you with the one you are not working on.

When they started dancing, they just wanted to be able to dance socially, but they have found learning proper technique enhances the fun of dancing.  While neither of them has danced in a competition, Bob says this is something he is seriously considering for the future.

They really enjoy dancing at The Ballroom Dance Center.  They have made friends at the studio, and everyone is so accepting and not judgmental.  It is a great place to come to have fun and fellowship with one another on the dance floor.  Plus, at the dance parties, you have the chance to use what you have learned on lessons.

Bob and Susan have two children – Jessica and Brian.  Susan says they both know how to dance, but don't dance.  Jessica is starting her psychiatry residency in June at the University of Alabama Birmingham Medical Center, and Brian is employed by Matthews Motors.  They also love their animal family.  The population of sheep and ducks has grown quite a bit from the five sheep and two ducks they had initially.  The animals just make it so enjoyable tor Susan on the farm.  They have three recent additions to their herd of sheep – a set of triplets named Pumpkin, Pumpkin and Spice.  Pumpkin and Pumpkin are identical.  Since there is no way to tell them apart, they got identical names.  They are as cute as can be; Bob has pictures of them on his phone that he loves to share!