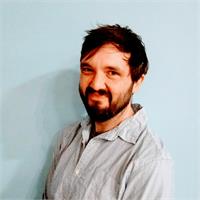 13 Mar

Who's Who at the BDC – Zack Old

Zack is a native Augustan, and he has worked as an emergency room nurse for the past 10 years.  His mom and dad live in Augusta as well as one brother.  He has another brother who is in the Air Force and lives in Arizona.  Zack, being the middle child, says he needed lots of attention and possibly still does.  He lives with his fiancé and five furry friends, a mixed rottweiler, a full-blooded pit bull and three cats.

He enjoys cooking and is currently on a "baking kick."  He likes to bake cookies.  He really has a good recipe for a chocolate peppermint cookie.  He also enjoys traveling.  Zack is considering going back to school part-time to become a mental health nurse practitioner.  Over the past year he has seen such a need for health professional specialized in this field, and he wants to help.

When Zack was three years old, his mom signed him up for clogging.  She knew her son had rhythm.  He continued clogging until he was 13.  He also enjoyed funk aerobics which incorporates the hip-hop dance style.  A few years ago, Zack found himself in rehab.  He will celebrate two years of being sober from alcohol April 1.  That was the turning point in his life that brought him to The Ballroom Dance Center as dancing can be a great help for people overcoming addictions.

He is currently taking private lessons and preparing to dance a Waltz and a Cha-Cha in the upcoming Villains Showcase in June.  He likes the attention he gets when he is performing.  He feels like he has something to prove, and he is going to prove it!  It may take lots of hard work, but dancing and performing is something he can do and be proud of.  As Zack says, we all need something we feel we are good at and can brag about.

When Zack was asked what he loves about dancing at The Ballroom Dance Center, he did not hesitate with his response – Emilie Tobias.  He says she makes him want to come back for more. The routines she gives him to learn are helpful and keeps him focused.

Zack's advice to people who want to start dancing or who are just beginning their dance journey is to dance like no one is watching and every time you dance, dance like it is the last time you will dance.  Make it count.  Plus, above all else, just have fun!  As to what he would have told himself before he started dancing, give it everything you've got.  Do not hold back.  Finally, smile the entire time because that is what you are meant to do.  Smile!

His mom was right; he does have rhythm.  However, as a beginner, he says not to expect to know it all in your first few lessons.  In time, it will come.  He does get frustrated from time to time.  Posture has been a challenge, and he is working on looking at his partner and the audience while dancing and not looking at the ground.

Zack gets such joy from seeing something created from nothing.  Seeing dance steps become a routine is incredible.  He has learned also to never say no; say yes.  How else are you going to grow if you just stay in your comfort zone?  That is what will help you overcome those plateaus you reach and get you to the next level.

"I would like to eventually be at the level where I can teach people.  It's not so I can become a teacher, but I would just like to be able to take my mom or my brothers onto the dance floor and teach them some basic steps," stated Zack.  "I want to be able to share my love of dance with others."

Having at least two or three specific goals is important to Zack, and he would love to do competitive dance.  Dancing also keeps him in better shape than he would be if he did not dance.  He loves the dance parties.  They are a good get away.  His goal is to learn a little more about each of the dances so he can be a better leader at the dances.

Something Zack has started doing when he is baking cookies is practicing!  A kitchen is just the right size to practice your Cha-Cha, Rumba or Swing and possibly your Waltz, Foxtrot and Tango, while you have a batch of cookies in the oven.

When asked why he likes private lessons, his response – Emilie Tobias.  He retains the information better through private lessons, too, and there is the accountability that you have with private lessons that you do not have with group classes.

He shared something a lot of people may not realize; ballroom dancing is way more challenging than professional dancers make it seem.  This dancing, it's hard and it's tricky, but it's a fun hard.  Try it!